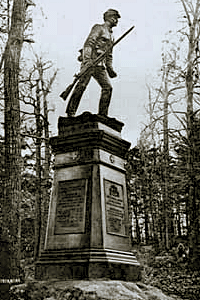 "DEDICATION OF MONUMENT"
From "Pennsylvania at Gettysburg"
39TH REGIMENT INFANTRY
(TENTH RESERVES)
Pennsylvania at Gettysburg: Ceremonies at the Dedication of the Monuments Erected by the Commonwealth. Addresses delivered at the dedication with some links to 'Official Records' concerning those events in regards to the 10th PA.
"MY OWN RECOLLECTIONS"
The story of Capt. Thomas McConnell, of Co. 'B' 10th Pa. Reserves... great resource for personal account of living and fighting with the 10th PA
MEMORIAL SERVICE, 2003
November 15th: A very nice ceromony was held Saturday morning at the monument. Tim gave thanks and prayer, followed by this speech by Dave Robinson.
PHOTO OF ORIGINAL MEMBERS OF THE 10TH, CO.G
This is a copy from a newpaper article, early 20th century regarding some members of the 10th, Co. G.